Need interactive classroom technology? We've compared the top brands in Education Displays.

It's no secret that COVID-19 has tested the patience of educators. Total remote learning was, to put it optimistically, an experiment with varied results for students and teachers across the country. Some students thrived under this social-distance learning model. Others did not.
Morale plummeted for teachers and administrators alike throughout 2020, and the pandemic only exacerbated existing inequalities for students who lacked the necessary resources for success. But it's not all bad news—one year later, mass vaccine distribution and dropping infection rates have allowed educators to return safely to the classroom. Now, schools are burdened with the responsibility of bridging the academic gaps.
LG, BenQ, Epson, and Samsung have partnered with Virtual Graffiti to deliver limited time discounts and free product trials for customers in the field of education. Not every interactive display is right for every setting, so to help distinguish the LID that best suits your school/higher education learning environment, we've researched the ins and outs of each Interactive Display and interviewed the brands themselves to help guide your decision-making process:
1. How do these Interactive Displays cater to the individual learning styles of all students?

LG: The LG TR3BF/TR3DJ  allows the flexibility for teachers and students to use their hands or pens for kinesthetic learning. There is virtually no parallax distortion, allowing students to see an accurate representation of their notes on the screen. The speakers on the front sides of the screen deliver crisp and clear audio that teachers can adjust at will. With the IPS panel, the display provides a wide viewing angle, color accuracy, and sufficient brightness for all students. 
Samsung: The ability to touch an IFPD and devices such as tablets in the room (using casting and mirroring) is an excellent foundation for tactile learning. While the Samsung Interactive Display does not completely replicate the physical aspects of kinesthetic learning, it can replicate using the digital equivalent, and helps prepare students for the digital world. Also, physical tools and projects can be introduced in conjunction with digital features.

Rooms can be outfitted with a IFPD and additional displays and are almost always married with audio systems that allow for a wide spectrum of material, creating an exciting atmosphere and enhancing the learning experience. Importantly, digital audio and visual media  performs best when integrated into a "software"  learning platform. When including lesson planning and delivery along with connection to back-end LMS (Learning Management Systems). Additionally, integrating with student devices fulfills a strengthen digital interactive environment ready for today's world. Many sources praise the use of the use of digital technology, interactivity and collaboration in learning. Interactive Flat Panel displays become the hub and control point for this kind of learning. Samsung has an easier, and more open premium experience.
BenQ: The touch-enhanced, dynamic visual experience of this display and EZWrite software are tailored specifically to make classroom learning fun and engaging. EZWrite 5 comes with dual pens that allow two users to write or draw simultaneously with different colors, making it ideal for lively classroom activities. EZWrite's handwriting recognition feature allows users to instantly convert written text, numbers, forms, and drawings into easily legible digital text without having to switch modes.
Epson: Just because the Epson Brightlink is a projector, that doesn't mean it lacks touch and pen-enabled interactivity. The device allows up to eight users to collaborate, write, and draw at once, and teachers can save and print the notated content without a PC. Need to display directions at the same time? Not a problem— activate split screen and students can collaborate and look at written instructions at the same time.


2. To what extent do these Interactive Displays make curriculum planning easier on teachers?

LG: With the LG TR3BF/TR3DJ screen, teachers can incorporate a range of activities into their lesson plans such as remote quizzes, instruction modeling, exit slips, collaborative group learning. In addition, the TR3 series does not tie a teacher to a specific learning curriculum or tool - it allows flexibility to teach how they want to with ease.
Samsung: The Samsung Interactive Display has 3 important elements that integrate seamlessly for teachers in the classroom. 1) Its easy to use. There is no remote needed. All controls are easily found on the screen. 2) It is PC-less in its primary and simple functionality, but can become much more powerful as you add peripherals or content streams. 3) It is an open solution integrating with current components, or building on new elements is easy and flexible.
BenQ: Looking for a voice controlled experience? The BenQ display offers an extra level of flexibility for device control through Voice Assistant, allowing teachers to control the flow of the class, such as starting the timer or searching the internet from wherever they are in the classroom. Teachers can easily control the IFP through voice control or remote control, further ensuring a smooth classroom experience for both students and teachers.
Epson: Unlike the other Interactive Displays, the Epson Brightlink 1485Fi offers other unique benefits that some educators will find preferable. This budget-friendly laser projector emphasizes highly visible, image-adaptive technologies to generate a flexible learning environment. Many schools already utilize projectors, so the Epson Brightlink may be an easier, more mobile alternative for schools that would rather transition to a more traditional interactive display.

3. How do these IDs provide scaffolding for English Language Learners and students with IEPs, 504, or ADA Plans?

LG: Split screens, captions, image manipulation, and differentiation settings are all features of the LG screen. In addition, the IDB allows for deployment of scaffolding strategies such as show and tell (teacher can allow only specific students to share), give time to talk (mute other students), use visual aids, and then allow for pause, ask questions, pause, and review practice.
Samsung: The lesson planning/delivery solution support IEPs and 504 concerns predominantly. Several features aid the instructor to control those LDS's as well as content and student devices: 1:N screen share, device agnostic sharing, 4 simultaneous device sharing, camera and soundbar/mic direct connect, image and content interaction. Regarding ADA, combined with the correct mounting with height-adjustment, etc., Samsung panels can be fully accessible, and the UX, as well as enhanced partner solution UI, supports ADA well.
BenQ: To effectively tackle learning goals, it has long been held that a holistic learning experience requires a combination of visual, auditory, and kinesthetic projects. The BenQ RP8602 are designed to tap into the dynamic possibilities of the classroom and help teachers build a healthy and engaging learning environment.
Epson: The free Epson iProjection™ software allows users to connect, display and share content simultaneously to/from up to 50 connected devices. BrightLink displays transform meeting spaces and classrooms into immersive collaborative environments where productivity is enhanced, creativity is on display, and participants fully-engaged. With images up to 120˝, flexible displays breathe new life into ordinary walls and dry erase boards, eliminating the need for dedicated electronic boards or space consuming flat panels.

4. What is the visibility of these screens in varying classroom environments? Do they allow the flexibility for the environment?

LG: Brightness specs, viewing angles, multi-directional, multi-device compatible - all of the above. The LG Interactive Display supports all mobile device operating systems so students can share easily on the screens.
Samsung: Samsung provides interactive panel sizes from 55" to 85".  A panel can fit into a wide range of environments. Additional panels can be used in a room to provide more viewing capability leveraging our "screen out" capability via a wired or wireless connection. 
BenQ: InstaShare is the software designed for seamless wireless presentation and collaboration during lectures. It allows the smooth streaming of visual, audio files, and Full HD quality videos. Users can also mirror and control all digital content across the devices including BenQ IFP, PCs, tablets, and smartphones, empowering contributors to enrich their sessions with a variety of multimedia resources.
Epson: The Epson Brightlink isn't kidding around with the projector lighting. At 5,000 lumens, the display maximizes color/white brightness to the highest standard of visibility. The image quality rests at 1080p Full HD and projects large, 100", 16:9 or super-wide 120", 16:6 images — casting up to 95 percent more interactive space vs. a 75" flat panel.  

5. To what extent can teachers quickly manipulate the features and settings of Interactive Displays without interrupting the flow of instruction?

LG: The LG interactive display makes it easy to minimize screens at the touch of finger or pen and pull up other browsers, saved documents, quizzes and videos. The display also ensures that teachers can control what students can share and not share with the class.
Samsung: The user controls are easily found on the face of the display UI. Deeper-level settings are cleverly set in the background so as not to interrupt the interactive UI, and every feature of the display has been specifically designed to be user-friendly for teachers who want to move seamlessly between lesson plans and media.
BenQ: With its grouping function, the BenQ features an application called "X-Sign Broadcast" that can send messages to a selected group of screens, a single classroom, or the whole school. The grouping function helps ensure information is only sent to the recipients for whom it's intended, while also reducing the time and labor required to send messages to multiple people.
Epson: The most convenient aspect of the Epson Brightlink is the automatic image adjustment and simplified calibration that makes installation easy to set-up. Within a few steps, the display is on and ready to go. Don't just take our word for it: the Epson Brightlink was a 2020 winner of Commercial Integrator's Best Audio-Visual Products.

6. What are the safety specifications of these screens, and can teachers and students interact with them without continuously sanitizing and wiping them down?

LG: The pen that comes with the LG Interactive Display allows zero touch requirements. When it comes to touchscreen cleaning, many standard glass cleaners (Non-ammonia based cleaners are touch screen safe) will suffice.
Samsung: The new 85" Samsung Interactive Display has a damage-proof, "shatter-resistant" panel. It is also UL certified anti-microbial. The previous 55", 65", and 75" are durable, scratch-resistant and easily cleaned with just about any market cleaning solution. One of our partners is iCloth, known primarily in EDU, Hospitality and Aviation.
BenQ: The 4K  BenQ RP8602 is a germ-resistant interactive smart board that fosters in-class and remote interactions and collaborations. It champions a unique third generation of germ-resistant screen,  air quality sensors, and eye-care solutions that allow teachers and students to stay healthy in the classroom.
Epson: With the Epson Brightlink, there's no touch required! No need to constantly sanitize and wipe when there's no physical screen to upkeep. Simply sanitize the classroom to the extent you feel necessary for a healthy, happy, classroom environment.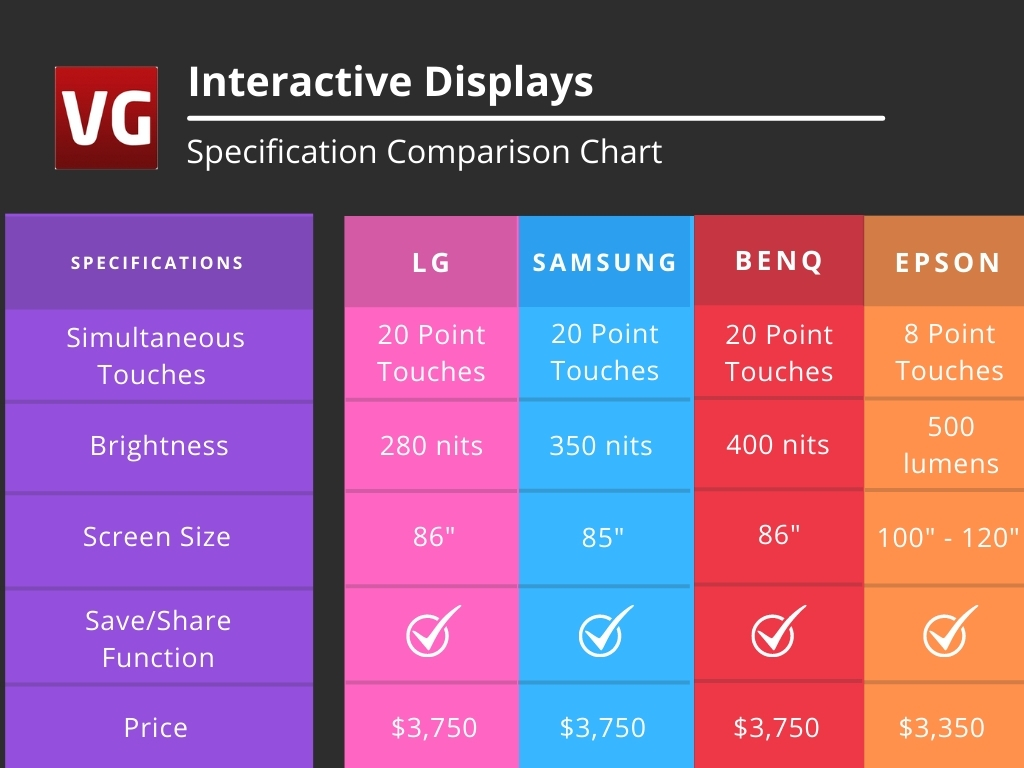 Go back to previous posts